Famous Author Visits BVS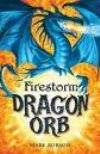 On the last day of March BVS was visited by the fantasy fiction author Mark Robson. He'd come in to school to work with the pupils in Year 6 and Year 5.
Mark was inspirational and gave everyone ideas and tips on how to improve their writing.
Grasping the opportunity Jack Cheshire, Cindy Lau and Nina Stanford interviewed Mark for BearWaves. If you would like to hear their interview please click
here
.
If you would like to find out more about Mark Robson please fast forward to his website by clicking
here
.