Creative Week September 2020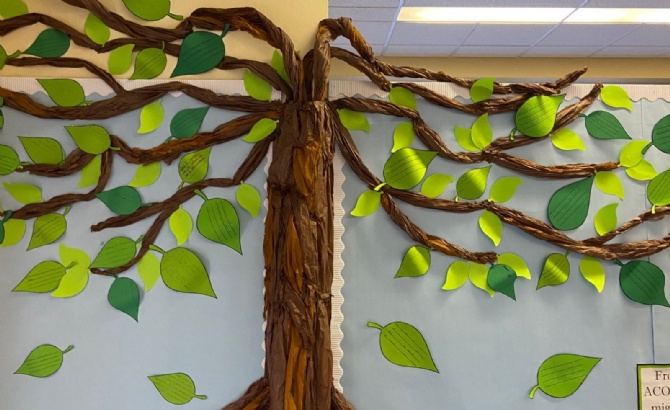 It was our first Creative Week of the new year - but with a difference!
We had our first Creative Week in September. Our theme was Wellbeing and Mental Health. We were disappointed not to have our families in to view our artwork, due to the COVID restrictions, but this didn't stop us producing some wonderful artwork.
Click here to see some of the work we have created.
Year 3
For Creative fortnight, Year 3 spent time working on their feelings and emotions, what it means to be a good friend and how to be kind. The children had a great time being creative and making our shared area look bright and colourful and a happy place to be. "We face it together, we work together, we play together, we fit together!"
Year 4
'A mandala is a complex abstract design that is usually circular in form. In fact, 'mandala' is a Sanskrit word that means 'circle'. Mandalas generally have a clear centre point, from which different symbols, shapes and forms will emerge.'
Some people draw mandalas as a form of meditation and this activity definitely had a calming and relaxing effect on the children as they worked quietly and carefully on their own designs.
In response to the book; Have You Filled a Bucket Today by Carol McCloud, the children thought about what words and actions could fill their bucket (make them feel good) then thought of how they would be a bucket filler themselves.
'I liked making the shiny bucket and told my family all about being a bucket filler when I got home.' H - Y4
'I learnt that I can fill people's buckets by being kind.' N – Y4
Year 5
Our first two weeks back at school focused on the topic of 'Wellbeing'. In Year 5 we created some exciting activities around all aspects of our wellbeing; physical, mental and emotional. We began by looking at worries and read a book called 'Ruby's Worry'. We discussed how worries can get bigger if we don't speak about them with a trusted adult. We pretended to be an 'agony aunt' and wrote a reply to Ruby giving her advice on how to shrink her worries. We also made our own worry dolls.
The children participated in some kid friendly yoga exercises to help them relax and we imagined a world without something that is presently important to us and drew a picture of what it would look like without that special something. We next created positive affirmations about ourselves and the children created a 'Positive Me' silhouette and wrote positive affirmations around their creation. Some found this tricky to do as it is not always easy to focus on the positives.
We discussed our support networks and who we could talk to if something is wrong or even when something is good. We made our own helping hands and decorated them beautifully.
Finally, we created our personal, special, safe and magical spaces we can visit in our minds if we are feeling happy, sad or angry. The children wrote about their magical spaces and painted them.
It was a lovely and creative two weeks!
Year 6
Year 6 have been looking at different emotions and how to use a positive or growth mindset to help with our well-being in school. We read the story about the colour monster who had lots of different emotions but didn't know how to handle them or what to do with them. The children then decided what colours would represent different emotions and wrote fantastic descriptions using similes and metaphors.
Year 6 also created their own mandalas, designs and made their own worry monsters, thought about the power of YET and set goals for things that they haven't achieved yet. Plus, they learnt Makaton signing to 'This is me' from The Greatest Showman and learnt that it is OK to be unique. They have made a great start to the year and made the Year Six team very proud!